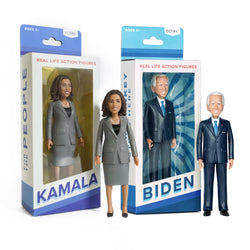 THE PRESIDENT AND VP OF THE UNITED STATES 
Exhale. It's finally over. You may have had your doubts, but clearly these two have got something figured out. The dynamic duo that brought down Trump, now in action figure form! 
THE ART PART
The Biden and Kamala Action Figures were carefully sculpted by our good friend Mike Leavitt, a Seattle-based artist and activist. Like Mike's fine art pieces, the figures are one part product and one part social commentary, exploring who we idolize in contemporary culture and how we do it. 
The Details:

1 Joe Biden Action Figure

1 Kamala Harris Action Figure 

6" Tall

Picture perfect. Stand on any flat surface, and can be posed for any occasion.

Ages 3+
Great Team
Had to have this Presidential Duo!
Biden has been such a great President with all that he has managed to do in spite of Republicans obstruction and hostility. And Kamala is the first female vice-president who is also a woman of color. Historic moments!
Amazing
These action figures are Amazing. I have been able to replace most of our collection that was lost in a house fire. You will love the detail and excellent design of these figures. Hoping for Nancy Pelosi figures to come back.
Great Birthday gift
Kamala and Joe made the perfect Birthday gift for a special friend. She placed the pair on a shelf facing the glass wall overlooking the hallway, has already received many positive comments and smiles.
The Perfect Pair
This is the perfect pair to add to your collection. I LOVE them. :)