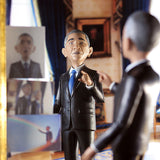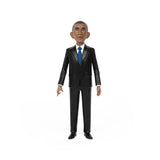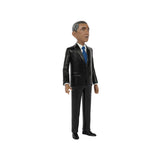 Missing Obama? So are we. 
Our therapist told us we're supposed to move on, but we're just not there yet. That's why we've re-introduced an all-new "post-presidency" Obama featuring a new sculpture by Mike Leavitt. And some white hair. Because, well, 2008 is a long time ago now 😭
Here is what you can expect:
Six inches tall. The Post-Presidency Obama Figure is a perfect size for all uses; whether you want to keep Obama on your desk for all to see or bring him out on adventures!
Picture perfect. You are going to want to shoot pictures of him so we designed the Post-Presidency Obama Figure with that in mind. He has a picture perfect expression, stands on any flat surface, and can be posed for any occasion.
Open the box! No need to worry about whether or not to open the packaging. We've designed it to insure that you can easily take the figure in and out of the display box without ruining its mint condition.
Obama brings a Happy Birthday
My sister loved the Obama figure I sent her for her birthday!!!
She's not easy to buy for, so thank you! Love these little tributes
to people I respect.
I Really Miss This Guy
My President Obama action figure has joined The Notorious RBG, Dr Fauci, and Stacey Abrams in my china cabinet. These are outstanding little tributes to people I admire greatly. I expect President Biden and VP Harris will join them soon.
I am pleased to have the opportunity to purchase figures that I so highly admire. Since I'm on a low set income, I have to limit my purchasing. But, I am very pleased with my purchases. thank you
Barack Obama in All His Glory!
I now have my Barack Obama Live Action Figure proudly displayed in my home, and is he majestic! Just what I need to lift my spirits and remind me that we are all capable of doing better and taking care of one another.
Time for a Change…
It's the 44th time I've admired our very own Obama in our new collection of Hero's & Icon's of our mantle. Every one who visits our Peach House, get introduced to our O character. They admire the president of calm and positive attitude along with his buddy of Dr Fauci and RGB! Yeah the collection is small, but you got to start somewhere.
So I've Changed my hobby from taking pictures of manhole covers in streets of the world, to collecting — collectible action hero's of our time!