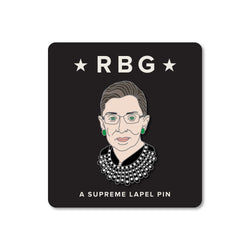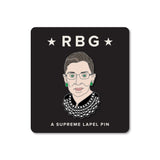 Take your favorite Supreme Court Justice with you wherever you go. Tote bags, denim jackets, hats, and lapels all look cooler with RBG's face pinned on them. Better than a magic 8-ball, this RBG enamel pin will help you always make the right decision.
RBG Pin
The RBG Pin has a wonderful iconic likeness of the Supreme Court Justice. I like the square, portrait shape of the pin. I wear it on the lapel of my winter jacket!
RBG pin
I am very pleased with my pin. It is well crafted and beautifully finished. As soon as I unpacked it, the pin went on my jean jacket alongside my "I read banned books" pin. Keep up the good work, FCTRY.
Our RBG gone but never forgotten
Love it, perfect stocking stuffer!
Lovely RGB likeness!
This is a wonderful pin of a wonderful woman, and it even features earrings in my favorite color!