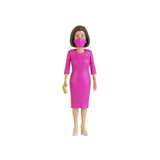 Nancy Pelosi Action Figure
SPEAKER OF THE HOUSE
Passed the Affordable Care Act? Check. Impeached Trump? Double-check. As the first woman to be Speaker of the House, Nancy Pelosi has a Ph.D. in getting things done. And that's why we've made her into an action figure. Mask included, of course. 

THE ART PART
To recreate Pelosi's likeness, we teamed up with our good friend and favorite sculptor Mike Leavitt. He's the caricaturist behind our RBG, Joe Biden, and Kamala Harris Action Figures. Like Mike's fine art pieces, the figures are one part product and one part social commentary, exploring who we idolize in contemporary culture and how we do it. 
THE DETAILS
6" Tall
Detachable mask and gavel included. 
Picture perfect. Stands on any flat surface and can be posed for any occasion. 
So much fun!
My Nancy Pelosi figure looks exactly like her! Her dress is beautiful and she comes with a mask!!! So much fun to collect these.
Incredible Speaker of the House
She is a strong woman and was a thoughtful and determined Speaker of the House. I admire her and this action figure is a good addition to my historical figures collection.
Amazng
My entire Fctay collection was lost in a fire, I have been replacing the charecters one at a time. I am so glad they brought back Nancy, now I just need a Hillary. Best collectibles period
So Nancy, she's a powerhouse
Love the figure. Such a relic of the times, even has face mask matching her outfit. Love love love her.
It's Nancy!
Very much looks like our famous House Speaker! Bright pink dress with matching mask & of course—her gavel! Perhaps a new version could portray her in her famous red coat with cool sunglasses. This is an outfit she wore, & is famous for, after putting Trump in his place after a meeting!