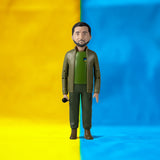 AN UNLIKELY HERO
Over the past year, Zelensky has found his way into our hearts.....and now, finally, into our homes. He's become a symbol of perseverance, resilience, and positive change.

He's not a superhero.  But he sure is heroic.

THE ART PART
The Zelensky Action Figure was carefully sculpted by our good friend Mike Leavitt, a Seattle-based artist and activist. Like Mike's fine art pieces, the figures are one part product and one part social commentary, exploring who we idolize in contemporary culture and how we do it. 
THE DETAILS
6" Tall
Removable microphone included 
Picture perfect. Stands on any flat surface and can be posed for any occasion. 
Rotmister
Kamala, Zelenskyi, Baiden. Who killed more people? What is the next toy? Hitler? Himmler?
True Hero
Great likeness. I admire this man so much. Got the action figure as a piece of history.
Zelensky
Great likeness, a true hero!!
Proud to have Pres. Zelensky "In the House"!
Great action figure. Only thought is that it would be fun for him to have a removable shirt with a Superman emblem beneath, but that design is probably not too cost effective... 😊